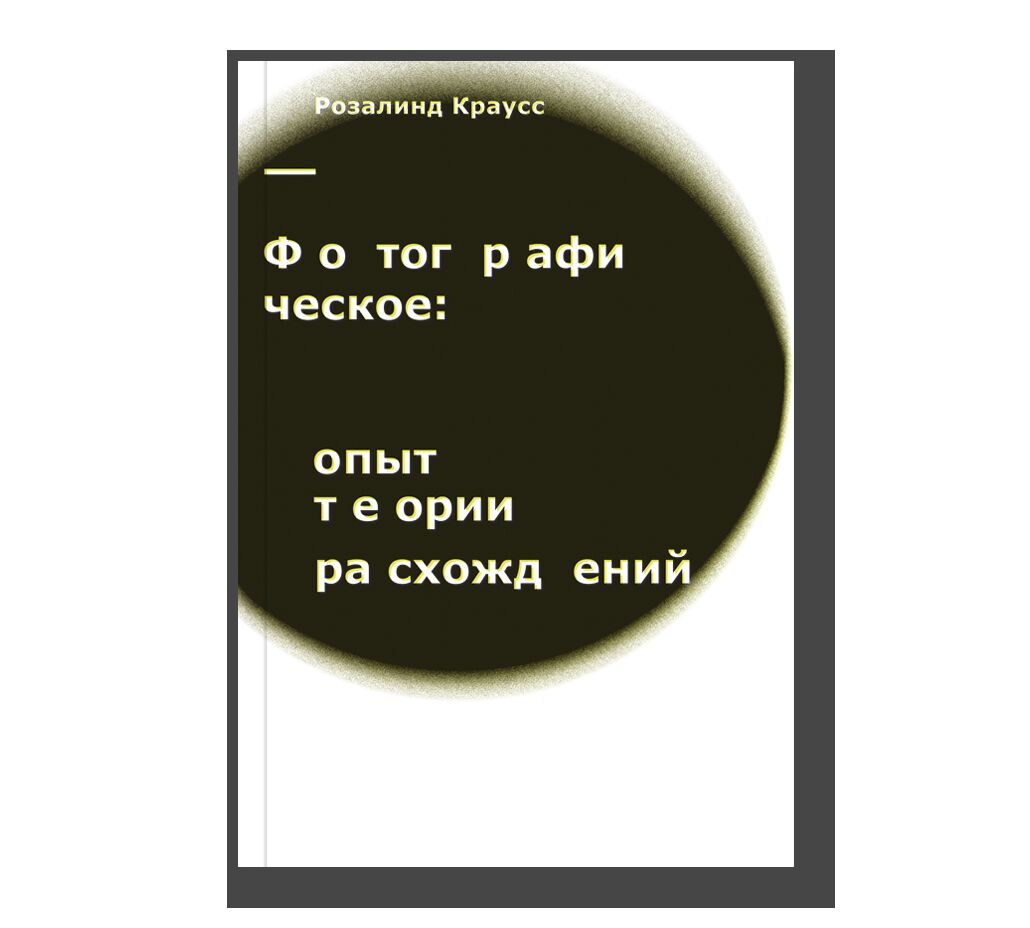 Year: 2014
Language: Russian
Publisher: Ad Marginem
ISBN: 9785911031916
Page: 304
Cover: paperback
In her collection of essays, contemporary art theorist Rosalind Krauss explores the broad contexts of photography, as well as the medium's influence on contemporary art.
Rosalind Krauss's collection of essays Le Photographique: Pour une Théorie des Écarts (first published in 1990) includes texts from 1977 to 1984 that she wrote for the journals October, the College Art Journal, Partisan Review and Degrés, as well as for various exhibition catalogues. As the title suggests, all are united by their focus on "the photographic" – as she has christened this theoretical subject, distinguishing it from "photography as an object of research."
In the foreword to the collection, Krauss emphasizes that these essays should not be regarded as texts on photography, in the same way as Roland Barthes' Camera Lucida and Walter Benjamin's Short History of Photography – two of the most important texts in photographic discourse – go beyond this category. In both of these works, photography becomes the pretext for a conversation about the other – about death and publicity with Barthes, and about the reproducibility and extinction of the aura with Benjamin. Krauss, with her own particular insight, continues this line: for her, a photograph is a pretext to write a history "of the discursive spaces of photography, of the photographic conditions of surrealism, of photography and the simulacral, but not of photography."
The twelve texts featured in the collection are divided into four sections, reflecting the range of questions and themes that interest the author: "Does the thought object signified by the expression 'history of photography' actually exist?," "Photography and the history of art," "Photography and form," and "From the point of view of photography." These subjects are united by Krauss's semiotic approach to photography. She defines it as a variety of "index" – or in the words of the founder of semiotics, philosopher Charles Sanders Peirce: "signs or images which refer to their object not because they are to this or that degree similar or analogous to it, and not because they are associated with its general properties, but because they are found in a dynamic … chain, equally, on the one hand, with the individual object, and on the other, with the feelings or memory of that for which it acts as a sign."
Krauss describes the impact that photography has had on the closed space of the art world through the prism of works by Nadar, Marcel Duchamp, Alfred Stieglitz, Irving Penn, Cindy Sherman and many others who, in the course of their artistic practice, have turned to the technical possibilities afforded by photography.