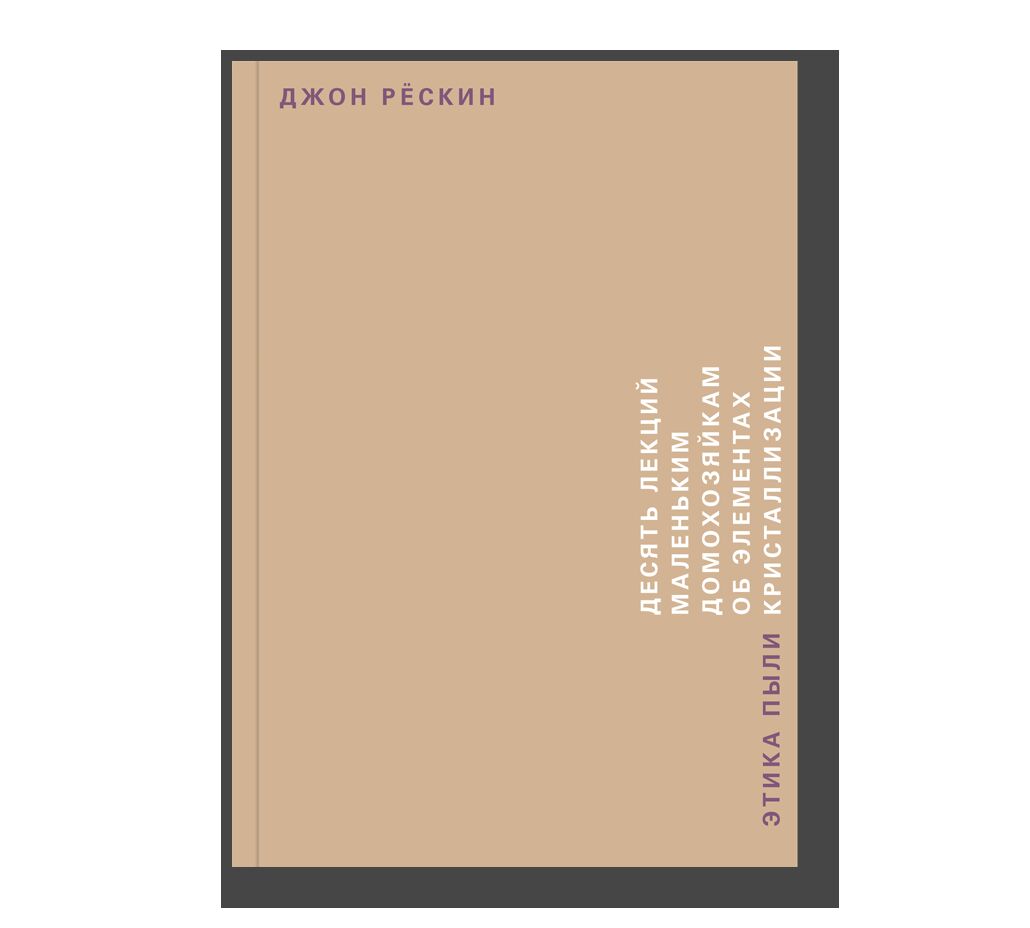 Year: 2016
Language: Russian
Publisher: Ad Marginem
ISBN: 9785911032883
Page: 176
Cover: paperback
This study by the famous British art critic and writer is written in the form of a Socratic dialogue and details Ruskin's thoughts on the education system, the development of fine art and design in Europe, and man's place in the world.
Ten Lectures to Little Housewives on the Elements of Crystallisation — such is the original subtitle of John Ruskin's The Ethics of the Dust (1866). The patronising line might repel some readers, but in fact, teaching housewives how to clean was the last thing Ruskin was thinking of. The central subject of his study is minerals: their structure, their types, and the process of crystallization. The study is presented in the form of a conversation between the Old Lecturer and a group of schoolgirls aged 9 to 20. Despite the author's claim that the characters are (almost) all fictional, it is easy to draw parallels between the text and Ruskin's biography.
In autumn 1859, Ruskin, an influential art critic and historian, the future founder of British social realism, John Ruskin was invited to teach at Winnington school for girls in Cheshire. His inspired lectures and discussions with the schoolgirls served as a basis for The Ethics of the Dust. With its liberal and homely atmosphere, Winnington was quite different from similar boys' schools of the time. When he was teaching there, Ruskin was not yet the radical thinker we know him to have been, but his work at Winnington contributed to his transformation into a leading critic of the Victorian era.
Apart from discussing the nature of minerals, the protagonist – the Old Lecturer – shares his opinions and philosophy with his young pupils, answers their questions, helps them understand the Bible, and draws their attention to interesting moments in literature and art. The book was written only five years after the first publication of Darwin's On the Origin of Species, when geology and comparative religious studies (on which Ruskin frequently touches in his book in relation to paganism) were still considered theomachist. In this sense, The Ethics of the Dust was a very bold work. Ruskin believed that the role of modern woman could no longer be limited to housekeeping. Aiming to liberate women in a patriarchal society, he inspired them to reveal their natural talents in public affairs: if men occupy themselves with making war and fighting for power, women are to protect and take care of the nation, fighting the diseases of society. As the Old Lecturer, Ruskin teaches the girls to compare and choose between traditional and new values, philistine and alternative opinions. "Be as happy as you can," says the teacher to his pupils. "And when you cannot, at least don't plume yourselves upon pouting."