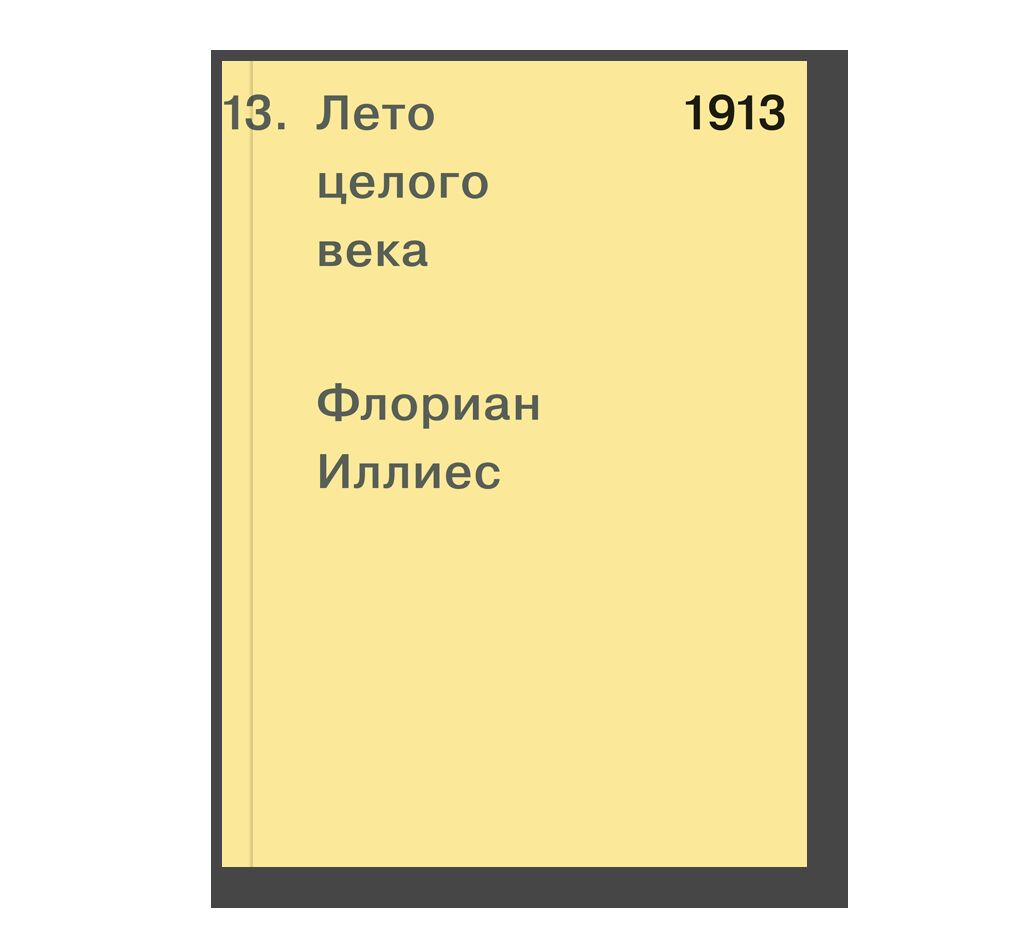 Year: 2013
Language: Russian
Publisher: Ad Marginem
ISBN: 9785911034436
Page: 272
Cover: paperback
This chronicle of the year before the outbreak of World War One details the cultural life and political events preceding the great European tragedy.
To mark the end of 2013, Garage and Ad Marginem Press release 1913: The Year before the Storm, a book by the renowned German art historian, journalist, and writer Florian Illies, dedicated to the last peaceful year before Europe became engulfed in the First World War. Illies chronicles the year month by month, both in terms of its cultural panorama and the political events that were bringing Europe's ruin closer and closer. The vibrant year 1913 was a true heyday of culture: Marcel Proust published Swann's Way, Igor Stravinsky caused a scandal with the premiere of The Rite of Spring, Kazimir Malevich painted his first Black Square, and New York City was shell-shocked by the famous Armory Show featuring European avant-garde artists, with Pablo Picasso taking center stage.
Illies also provides accounts of the first steps taken by would-be celebrities. In 1913, the delinquent 12-year old Louis Armstrong laid hands on his first trumpet at a correctional institution, Coco Chanel opened her first boutique, and Charlie Chaplin signed his first contract with a film studio. Other characters are Thomas Mann, Sigmund Freud, Carl Gustav Jung, Virginia Woolf, Joseph Stalin, and Adolf Hitler.
Illies succeeds in capturing the unique air of 1913-the spirit of a previously unthinkable freedom (creative, spiritual, and sexual), daring creative experiments, multiple breakthroughs in culture, science, and technology-and, simultaneously, the premonition of downfall that crept over many minds that year, from Arnold Schönberg, dismayed by the very number 13, to Schnitzler, Rilke, and Freud. Love is a constant theme, as Alma Mahler, Gustav's widow, starts a torrid affair with Oskar Kokoschka, while Franz Kafka reneges on his proposal to Felice Bauer. The author's ironic, intimate tone sets 1913: The Year before the Storm apart from other chronicles, and his book, rich in historical facts, reads like an inspired novel.